What is PLASTIC?
"Plastic" is an umbrella term that encompasses a wide range of materials made from semi-synthetic or synthetic organic compounds. The International Union of Pure and Applied Chemistry (IUPAC) defines plastics as "polymeric materials that may contain other substances to improve performance and/or reduce cost". These highly malleable materials can be molded into solid objects of a multitude of shapes and sizes. Plastic is made from oil, petrol, natural gas and coal (non-renewable resources). Most of the materials used to make plastic come from oil refining residues that would otherwise be burned or wasted. As a curiosity, the natural decomposition of plastic in the environment takes over 500 years due to the materials that make it up. A versatile material, plastic is found in almost everything we consume, from bottles, glasses, plates, bags, to casseroles, boxes and even kitchen utensils and, although it is very convenient for us to use them (because they do not break , they are easy to transport, etc.), we must be very careful about the ways of using these packages. Some specialists claim that no less than 6,000 chemical substances are used in the packaging industry, numerous researches have revealed that some types of plastic seriously affect health directly, and that is precisely why, following some international regulations, the manufacturers were obliged to indicate on the packaging the type of material from which it is made, either by symbols or by letters or numbers.
About PLASTIC in numbers
World plastic production has grown exponentially since the early 1950s (1.5 million tons) and reached 359 million tons in 2018 (of which 40% belong to the plastic packaging industry). Between 4.8 -12.7 million tons end up being dumped in the seas and oceans.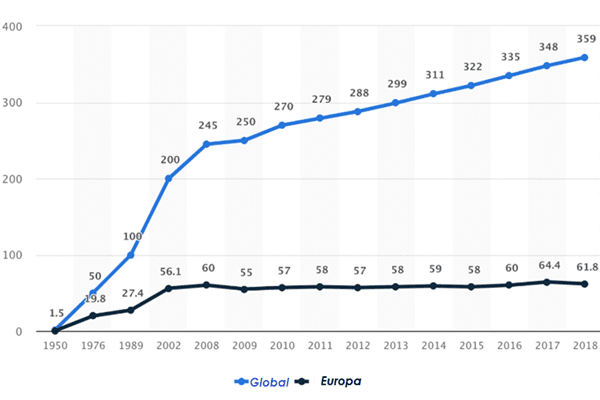 Figure 1. Plastic production in millions of metric tons
Source: Statista.com, Oct. 2019
Meanwhile, according to statistics released for 2018, plastic production in Europe slowed to 61.8 million metric tons in 2018, from a peak of 64.4 million metric tons in 2017. 30% of the total plastics produced in 2018 are from China compared to 17% from Europe. In 2018, 9.4 million metric tons of post-consumer plastic waste was collected in Europe for recycling as consumers and industry pay more attention to plastic disposal and end-use, according to a 2019 report by PlasticsEurope. The trade organization says the plastics industry employed more than 1.6 million people in Europe and contributed €28.8 billion to public finances and well-being in 2018.
In 2018, China had a total share of about 30% of global plastics production. NAFTA (North American Free Trade Agreement – Canada Mexico USA) was the second largest plastic producing region in the world after China, accounting for 18% of global production, followed by Europe with 17% (Figure 2).
Plastics are used in almost every segment of life – from everyday life to industrial applications. It is estimated that by 2050, the cumulative production volume of all plastics ever produced will reach 34 billion metric tons, up from the two billion tons that have been produced since 1950. Territorial distribution of the largest producers of plastic products are shown in figure 2.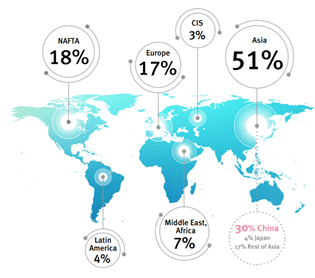 Figure 2: Territorial distribution of global plastics production
Source: PlasticsEurope Market Research Group (PEMRG) and Conversio Market & Strategy GmbH
Due to their ease of manufacture, low cost, impermeability and resistance to chemicals, temperature and light, plastics are used in the production of a wide variety of products, directly replacing many materials such as wood, paper, stone, leather, metal, glass and ceramics. In the modern world, plastics can be found in components ranging from stationary objects to spacecraft. Given this versatility, it is no longer surprising that an annual amount of plastics produced was just 359 million tonnes in 2018. In Europe, almost 40% of plastics are destined for packaging, i.e. for immediate or near-immediate disposal (Figure 3).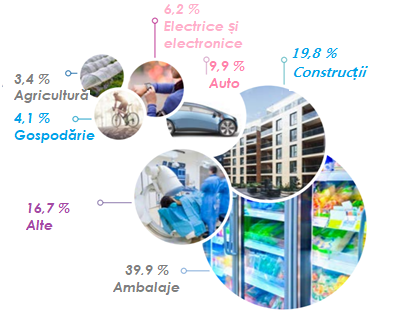 Figure 3: Sectors of the global economy, the biggest consumers of plastic
Source: PlasticsEurope Market Research Group (PEMRG) and Conversio Market & Strategy GmbH
While the benefits of plastics are undeniable, their widespread use, as well as their inherent resistance to (bio)degradation, ultimately leads to their accumulation in the environment. Currently, it is estimated that plastic waste makes up about 10% of the total municipal waste worldwide and 80% of the total plastic found in the world's oceans, reaching it through rivers and sewage systems.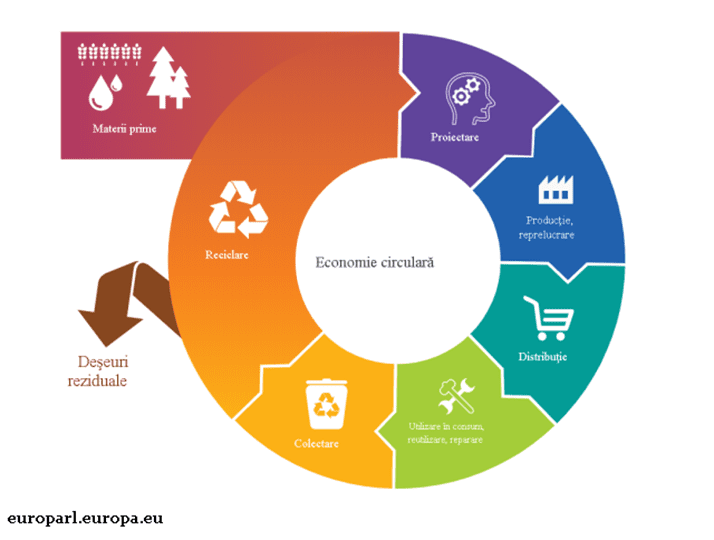 With the consumption of plastics expected to double over the next 20 years, the EU Commission will take further targeted action to address the sustainability challenges posed by this ubiquitous material. A new Circular Economy Action Plan for a cleaner and more competitive Europe was recently approved. Importantly, for citizens, the circular economy will deliver high-quality, functional and safe, efficient and affordable products with a longer lifespan and designed to be reused, repaired and recycled at a high level.
To increase the use of recycled plastics and contribute to a more sustainable use of plastics, the Commission will propose mandatory requirements for recycled content and waste reduction measures for key products, such as packaging, construction materials and vehicles, while taking into account the activities of the Circularity Alliance in the field of plastics.
In addition to measures to reduce plastic waste, the Commission will address the problem of the presence of microplastic particles in the environment through actions such as:
restricting intentionally added microplastic particles and addressing the issue of pellets, taking into account the opinion of the European Chemicals Agency;
the development of labelling, standardisation, certification and regulatory measures on the unintentional release of microplastic particles, including measures to improve the capture of microplastic particles at all relevant stages of the product life cycle;
further developing and harmonizing methods for measuring unintentionally released microplastic particles, in particular from tires and textiles, and providing harmonized data on microplastic concentrations in seawater;
closing gaps in scientific knowledge related to the risk and occurrence of microplastic particles in the environment, drinking water and food.
In addition, the Commission will address new sustainability challenges by developing a policy framework on:
the supply of plastics of biological origin, their labeling and use, based on the evaluation of cases in which the use of biological raw materials has real benefits for the environment, which are not limited to the reduction of the use of fossil resources;
the use of biodegradable or compostable plastic materials, based on an assessment of the situations in which such use may be beneficial to the environment, as well as the criteria for such situations. Efforts will be made to ensure that labeling a product as 'biodegradable' or 'compostable' does not mislead consumers into disposing of that product in a manner likely to generate plastic waste or pollution due to environmental conditions inadequate or due to insufficient time for degradation.
The Commission will ensure the timely implementation of the new directive on single-use plastic products and fishing gear to tackle marine plastic pollution while protecting the single market, in particular in terms of:
the harmonized interpretation regarding the products regulated by the directive;
labeling products such as tobacco, drinking glasses and wet wipes, and introducing attached bottle caps to prevent littering in the public domain;
the first development of rules regarding the measurement of the content of recycled materials in products.
You can find the full article in the latest issue of Waste Management Magazine (no. 28 (4) 2020).
Subscribe now to be informed – https://e-circular.org/aboneaza-te/