May 1, 2023 started in an eco-responsible way, namely by organizing a large activity of plogging  (running combined with waste collection) supported by the communities of amateur and professional athletes such as: MOLDOVA TRAIL RUN CLUB, Race Nation Moldova, the Sports Orienteering Federation of the Republic of Moldova, Garmin Moldova and Run Moldova.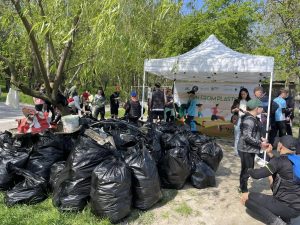 In total, more than 200 people of different ages participated in the organized event, who together collected around 100 bags of plastic waste from 4 parks of the city of Chisinau (Valea Trandafirilor Park, Dumitru Râșcanu Park, Valea Morilor Park, and the Lake near the Village Museum at the City Gates). For one hour, the volunteers collected waste and sanitized the 4 green spaces in the capital, leaving behind a cleaner and less polluted environment. Thus, it was successfully managed to combine a pleasant hiking/light jogging workout with an action to clean up the capital's parks. At the end, all the collected waste was evacuated from the park by Î.M. "Association for the management of green spaces" which also joined the launched initiative and which undertook to collect and transport the waste bags. "I collected a lot of plastic. One is pulled right out of the ground. This is how the summer season begins with skewers and I urge the world not to throw garbage in nature, but in the garbage." reported one of the volunteers who participated in the sanitation event.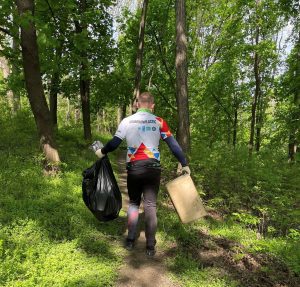 The event culminated with a relaxation activity and prizes in the premises of Kaufland Moldova, where all ploggers received medals made of recycled plastic waste and recovered their energy with tasty dishes and lots of good music!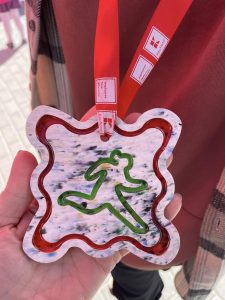 Plogging is an ecological movement through running and sports recently launched in the Republic of Moldova by AO EcoDigital through the Project "Fugi de PLASTIC/Run from PLASTIC" implemented with the financial support of the Small Grants Program GEF SGP Moldova, implemented by UNDP in partnership with AO E-Circular, AO Run Moldova and AO Association of Manufacturers and Importers of Packaging from Moldova (APIAM). The plogging activities are also supported by the Toreco company, which provides bags and gloves for sanitation, and the Coca-Cola HBC Moldova company, which provides water for the participants in the plogging activities.
Plogging is a simple but also very interactive activity. All a plogger needs, in addition to caring about the state of the environment and ecosystem, is the right jogging gear and the desire to get outside for a run! To be aware of the next editions of plogging We invite you to follow the page https://www.facebook.com/ecodigitalmoldova